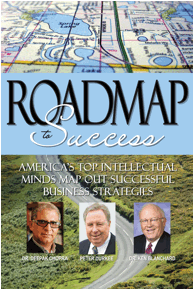 Peter Durkee joins Ken Blanchard & Deepak Chopra
in an upcoming release of
Roadmap to Success
 America's Top Intellectual Minds Map Out
 Successful Business Strategies
How do busy people become successful? Insight Publishing is pleased to present Peter Durkee, Dr. Ken Blanchard & Dr. Deepak Chopra in an exceptional compilation of resourceful people who will tell you how they learned how to be successful. They will share with you their secrets and reveal some remarkable insights on how to set goals in life and how to accomplish those goals.
Professional Coach Peter Durkee is an international coach helping those in many diverse business and life situations. His clients range from Europe to South America including the United States.  He holds three professional certifications including Associate Certified Coach from the ICF (International Coaching Federation), Certified Professional Coach from New Vibe Training School and Certified Transformational Coach from Western Seminary.  He holds a Master's Degree in Mobile and Distributed Computing from Leeds Metropolitan University in Great Britain.  He enjoys public speaking and training and encouraging others in business and community settings.
This includes his work as a Certified Career Direct consultant helping those find their desired career opportunities. During a period of time in his life he was going through work transition and he started a community Job Search group.  This lead him into studying and becoming a great career advocate for people searching for jobs and clients looking for careers.  He believes each person is uniquely designed and finding the perfect fit career brings a long life of happiness and satisfaction.  His Career Direct consulting allows him to administer the most comprehensive career assessment that covers the four areas of Personality, Interests, Skills and Core values to give a very complete picture of a person.  As an author, Pete Durkee has added his value to the new book, "Road to Success" with chapters also by Ken Blanchard and Deepak Chopra.  Other local stories and articles by Pete appear in various publications.
For more information on Peter Durkee, and to order your copy of Roadmap to Success, contact:  Peter Durkee, on the contact page or at 503-329-9253.